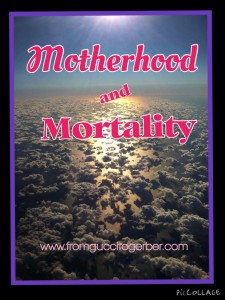 Not all that long ago, I used to tell my husband, I thought I would die on the young side of old.  The notion never ever bothered me.  I can actually say I was really ok with it.  I have always been a big believer of things happening for a reason.  I guess it was just a silly gut feeling I had and I was at peace with it.  Then something happened….I had my son.
To say I feel differently now is an understatement.  And the reasons are layered and complex.  I am sometimes hit with the fear of "Oh my God! What if something happens to me and O is left alone?" Well, it's already ridiculous, because he would not be alone. He would have my husband.  His father.  The person on this earth who loves him as fiercely as I do.   But every child needs his Mother, right? Or is it the other way around? Now that I have him…now that I have tasted this kind of love…I don't think I could live without it.  I need him as completely as he needs me.  Maybe more so.
The completely irrational and borderline crazy mourning of my own inevitable passing I experience at times,  is about MY missing out.  I don't want to miss a single second of this brilliant journey.  Being an older Mom just emphasizes the fear.  I don't need to be sidled with an untimely death.  Just dying in the normal course of life will leave me missing a chunk of O's journey.   If he waits to have children like I did, I'll be 84  if I am lucky enough to meet my newborn grandchildren.  Certainly too old to watch them grow up.  It's depressing really.  Geez.  Right now my husband is rolling his eyes.  He wasn't thrilled with this week's topic of choice.  He likes it when  I write about rainbows and unicorns.  Lol.
The other night, I started to get worked up over it all. I completely freaked my husband out.  I had just read an article that stated 1 out of 2 women and 1 out  of 3 men  will get cancer.  Most survive, but no one lives forever.  I started to feel consumed by a loss that didn't even happen yet? A loss that,  most likely, would not happen for a very long time.  And when that time does come, and my number is up, so to speak, I won't experience the loss, cause I'm the one who will be gone.  But I guess that really depends on your beliefs on the afterlife.  I'm completely certifiable.  See how your thoughts can snowball?  It's complex, right?
After researching some other articles, I realize that I'm not alone in these thoughts.  In fact, I'm on the sane side of "cray cray."   I read a post by a women who was encouraging parents to document their lives (video, photos, etc.) for their children to have when they are gone…"before it is too late"….(Geez).   It is called intentional memory making.  There is even an app for it!  I mean, I get it.   When my husband's father passed away, he had heaps of recordings of his father singing.  It helped him grieve.  And even now, almost four years later, it helps him feel closer to his dad.  But his father was a professional singer/songwriter.  These memories were made by his father simply living his life doing what he loved.  It's a bit different than intentionally documenting everything.  I take my fair share of photos, I do.  And it is fun to go back and reminisce, but I don't know.  I don't want to judge what others want to do.  So..what do I do?
Well, I can't change the fact that I am, indeed, an older mom.  I can try to keep myself healthy, but even that is no guarantee.  In fact, that's exactly it…..we have no guarantees of the time we have here.  No telling when our time is up.  So acceptance seems paramount.  Acceptance and gratitude.  Gratitude for all we are experiencing in the NOW.  I can try not to waste days, but I'm sure there will be a few days, at least,  lost to complaining, or stress, or both.  I'm only human.  But I don't want to spend moments constantly behind a camera lens…hovering on the outside of our experiences for the sake of documenting them.  Nor do I want to feel every moment has the cloud of mourning hanging over it…even if it is hanging somewhere in the back of our mind, it's still there, stealing from our NOW.  Our perfect NOW.
As with everything, balance is key.  So I'll mix my neurosis with some healthy belly laughing and get on with this awesome second act of my life.  (Did I mention my life is a play in Three Acts?) I guess when it's all said and done, I can say I have tasted pure true love.  I have experienced real joy.  I feel like I know what heaven truly is.  And maybe I'll find an old shoe box and occasionally put some photos in it and write some love letters to the sweetest boy I'll ever know, my little O.
Until next time, keep on keeping on…and remember, behind every great kid is a mom who is certain she is screwing it up!