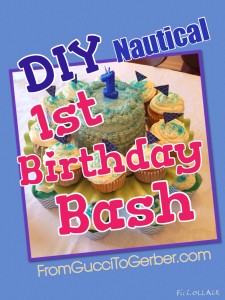 It is hard to believe it has been a year since I gave birth to my little O.  When I think back to the first few months of his life, it seems like a lifetime ago.  And I seem like a completely different person from that terrified, bluesy mommy of the early days of O's life.  I have found my footing as a mother.  My tentative wobble has turned into a confident stride.  I can honestly say, I'm good at this mothering thing.  And I couldn't be happier.  All of that,  along with the one year milestone for O, means there is MUCH to celebrate!  It seems appropriate to share some party tips I used  for my little ones first big day.
I chose to do a nautical theme, as I did with O's nursery.  We have such a connection to the sea, especially now living here on the beautiful South Coast of Massachusetts.  I adore sailboats, shells, anything to do with the ocean.  If you live anywhere in the Northeast, you might be familiar with the Christmas Tree Shops.  They have a wonderful assortment of beach and nautical themed paper and party goods.  I got a lot of stuff from there.  But most all the food and baked goods were made by yours truly.  It is more time consuming than store bought, but I actually enjoy cake making and decorating, so it is worth the extra time it takes.
I decided to do a picnic/party, as most of the guests were adult relatives and it took place on Memorial Day weekend.  So the fare was pretty typical.  Hot dogs, hamburgers, potato salad, cole slaw, and baked beans.  It was the appetizers that I got to have a little fun with.  I can't take credit for the idea of this red pepper crab, but I love it! Found it on Pinterest, of course.
I also wanted something a little more unique to add to your typical chips and salsa.  So I did a mix of goldfish crackers and pretzel nets.  Get it? Fish and nets?  Turned out very cute and there is nothing to it.  Just put them into cute little baskets lined with colorful napkins.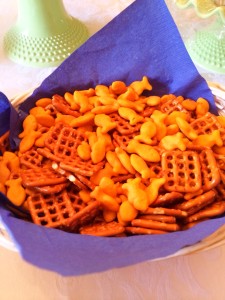 I also decided to use a beverage dispenser filled with lemonade and sliced lemons, rather than sodas.  Nothing worse than a bunch of 2 liter bottles or cans all over the place.  I used clear cups and added blue and green straws for a pop of color.  Again, super easy….but the theme and color scheme stay intact.  As far as decorations, I used light blue and aqua colored balloons and a nautical banner I got from Christmas Tree Shops.  I attached it to the drink/app table.  I thought of adding shells and starfish around the tables, but to be honest I forgot them at the last minute, but they would have been cute.
The real focal point was the dessert table that featured the Smash Cake and cupcakes, among other treats.  I added glass candy  jars of Swedish fish and blue, white, and green M&Ms.  I made the cake and cupcakes on my own.  Even the cupcake toppers.  I couldn't find anything nautical that I liked, so I made little navy blue flags with toothpicks and colored masking tape. Unbelievably easy.
Now the Smash Cake is new to me. We didn't have those things when I grew up, nor when my nieces and nephews had their first birthdays.  But, I kind of love the idea and the photos I've seen of other kids smashing into them are just dear.  To tell you the truth, I didn't know how it would all go over.  O has never had sweets yet, so I wondered if he would even like it.  As it turns out, he wanted nothing to do with it.  No cute photos.  No face filled with icing.  It wasn't his bag.  I can see where I went wrong.  The texture of the buttercream icing must have felt odd to him, as well as it being light blue.  It tasted GREAT to US….but that really isn't the point of it.  I think I will try it a again on his actual birthday this week and use homemade whipped cream and Cheerios to top it.  He is familiar with Cheerios.  Lol.
The cupcakes were super yummy. I made two kinds. Blue Raspberry with a vanilla buttercream icing.  I found the cake cups in the Marshall's Home Section.  Loved those! The second variety was vanilla with vanilla buttercream icing.  You really just need an icing bag and a good icing tip.  Again, Christmas Tree Shop has a box of 20 bags with 3 tips for $1.00.  Crazy, right?
We had such a nice day with my family in NJ.    I can't tell you how thankful I am for all of them.  It's so important for us to have O grow up with a sense of family, which is why we make the 4 hour trip as often as we do. We were exhausted at the end of the day, but it was all so worth it.  Thanks for letting me share and, as always, thanks for reading!!