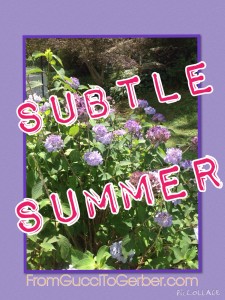 It dawned on me the other day that it was almost August! Where is the summer going? I realized that I had yet to do anything "summery."  The days were marching on and I was not participating in the standard joys of the season.  Who am I? Oh wait, I'm a mother of a one year old.
Our days have been consumed with our crazy move and making this new house our home.  It's all coming along, but far from finished.  But if we don't take some time to enjoy this beautiful summer it will be gone before we know it.  I feel like I should rush out to play some mini golf or get some ice cream at a seasonal creamery.  Or go to the beach.  Or go sailing. But O is only one.  He doesn't do ice cream yet or mini golf.  The beach is daunting on my own with the little guy not to mention the summer sun would fry his milky white skin. He's napping twice a day lately so the window of time I get out of the house is small….And we don't own a sailboat.
Past summers have been spent in the sunflower fields of Tuscany and on exotic Greek Island Beaches.  I would get excited for the summer sales at Gucci in Rome and for walking through the Bazaar in Istanbul.  I'd spend my days that happened to be stateside on a beach, reading, working out and getting far too tan for the likes of my fair skin.  I've had all the glamour, excitement and travel a person should be allowed.  My husband asked me the other day if I missed my old life.  🙂 Without pause, I said, "No."  And that's the Gods honest truth.  It's not that it wasn't great….it was.  But this is just so much better.  And I really believe you just don't "get it" till it happens to you.  Till your ready for it.
I find myself opening all the windows in our new home, feeling the warm breeze and listening to all the sounds of summer.  I watch O practice his walking like an Olympic athlete.  This kid is tenacious! I watch the clouds from the skylight in our beautiful great room.  Light pouring in.  It's heavenly.  It is my summer this year.  And I realize,  that it's all right with me.  Next year, O will be older and more ready for the beach.  He will get excited for an ice cream cone and will have mastered the art of running, let alone walking.  But for now, our summer is on the subtle side.  A slower pace, if you like.  I don't mind it, surprisingly.  But hold onto your hats,  things are about to get crazy…When O wakes up from his nap we might go to the farm down the road to get some fresh vegetables and I think I'll make my Mom's raspberry pie.  That always makes me feel like it's summer.
Until next time, keep fighting the good fight! And remember, behind every great kid is a mom who is certain she is messing it up! Xo