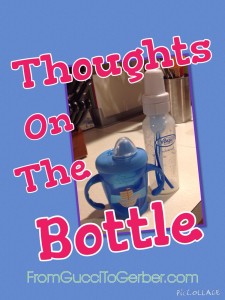 I've been thinking a bit about the bottle lately.  It seems like ever since O turned a year old, the pressure to get him off the bottle comes from all directions.  Every parenting article I read tells me it's time to give it up. Every well meaning relative, every Tom, Dick and Harry (every Tom, Harry or Dick) thinks once a child turns one we should take the bottle out of his hands.  If I was nursing, would there be pressure to get my child off the boob at a year old? I'm interested to know.
Why is it that my baby went from infant to toddler in the span of a day? I mean, I know he's not an infant anymore, but he hardly qualifies as a little boy yet.  He's still a baby for goodness sake.  That bottle is a comfort for him before bedtime…and (here it goes) I still give him one early in he morning.  That one is more for me, because O will sleep another two hours if he has a bottle.  That's time for me to shower, enjoy my coffee, and DO things.  It's GOLD! And really, I have to change his diaper after he sleeps through the night anyway.  ( God knows, there is no room in it for his morning poop…it MUST be changed!)…so what's the problem with a bottle and a cuddle?  Is there something wrong with that?
He drinks pretty well with his sippy cup during the day…but only water.  He won't do "milk" in it at all.  So the only milk he gets is before bed and in the early morning.  So it's not like I'm giving him too much.  And why is my tone so defensive? Why is it SO important to get my son off the bottle so quickly? Why does society want my baby to grow up so fast? It seems to me that O lets me know when he is ready for things.  I introduce things and in time he takes to them.  I don't push foods on him, but just keep introducing and re-introducing them.  Sometimes the 7th time is the charm! I am digressing.
The point is, my boy has a lifetime to drink out of cups.  I really don't believe it is detrimental to him to have a bottle for another year.  Maybe more. I don't know.  What I do know, is that I am in NO rush to have him do anything un-baby like.  That time will be here before I know it.  I don't mind keeping him little for as long as I can.  I'm sure someone out there thinks I am holding my child back or being a complete hover mommy.  But the fact is, at least in O's case, he eventually hits every milestone with joy and gusto….when he's good and ready.  I've learned now, not to stress over it.  He's gonna do everything he's "supposed" to in his own time.  Why push?
Well, friends, that's my two cents for this week 🙂 Until next time, keep fighting the good fight, and remember…behind every great kid, is a mom who is sure she is messing it up.