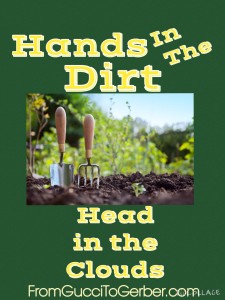 What is it about putting your hands in the soil that is so therapeutic? The smell of the soil.  The tugging of the weeds.  It is mesmerizing to me, much to my surprise.  I find myself out in the gardens of our new home, several times a day.  It seems the weeding is never done.  There is always mulch to spread and new perennials popping up. I've even started composting!  The grounds are like a big mystery to me.  An exciting gratifying mystery.
When we bought this house, I fell in love with the gardens.  But I was also terrified of them.  Up till now, I pretty much killed everything I ever tried to grow.  I have hope for these gardens, though,  because they were planted by someone else.  Someone who had more than a clue about what they were doing.  We had glorious mature perennials popping up through out the spring and summer….and I'm already seeing things coming up for autumn.  It's wonderful.  My hope is that I don't wreck it all.  I am committed to at least trying to keep it beautiful.
Anyway, I digress.  I was saying it was therapeutic.  At least for me it is. I am fully aware it is a form of escape for me.  More like a form of meditation.  I take all my stress and leave it for later.   I don't know if I would go as far to say it absolves my stress…but I certainly don't feel stressed when I'm in the garden.  That's probably why I go out to work in it so often! I engulf myself in performing a specific simple task. And I feel totally calm.  Very Buddha, if you will.  🙂
Let me be clear.  I don't have stress because I'm a Mother.  I have stress because I'm a person.  O does not give me stress.  Taking care of him everyday does not give me stress.  It's exactly where I want to be.  It brings me intense joy.  My stress is about life stuff.  I have a darling mother who's dark dark depression and inability to "live" her life brings sadness to me everyday.  I have two wonderful parents who's  marriage is so broken but neither have a clue how to fix it.  It weighs on me. Senseless gun violence, hate crimes, bigotry, health issues…they can stress you out.  And Donald Trump.  He's a huge source of my stress these days.  Will I have to move to a different country if he is (God Forbid) elected president?  But I have to tell you, when I am in the garden…I don't think about any of that.
I take O out with me most days for a bit of sunshine and exploration.  He loves it! He is intrigued by the flowers and plants.  And rocks! What is it with little boys and rocks? I let him wander within my eye's peripheral.  He is learning to separate and find distance from me with the safety net of seeing me across the yard.  When he starts to get a little too far, I call him back and he toddles closer.  It's pretty awesome.  It is exactly as I had imagined it in my mind's eye….only better.  It is our little Nirvana.
Maybe it isn't for everyone.  I would have never imagined it was for me.  I sooo didn't see this coming.  My idea of escape used to be a trip to TJ Maxx for a little bargain retail therapy.    Maybe I got into this because it absolutely HAS to be done and calling a gardener isn't on the table right now…?? I don't know.  All I know is that I am loving it.  Getting dirty and all.
Until next time, keep fighting the good fight and remember, behind every great kid is mom who is pretty sure she is messing it up.  Xo