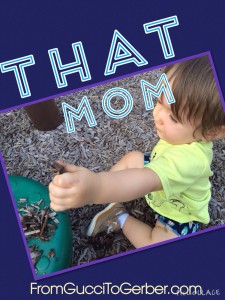 Before I had a child, I vowed to keep my offspring neat, clean and well groomed. No disheveled children.  No dried food on their face.  No dirt on their knees.  No poop stains on the back of their pants.  No sweaty, un-combed hair….you get the picture.  We've all seen these children.  I have always said, I will never be "that mom" who goes anywhere with her child in such a state.  Well, as I say more often than not these days, NEVER SAY NEVER.  You know, when my husband read this post, he said he thought I came across uptight and judge-y…..and well, let's call a spade a spade…I have been.
I usually pride myself on having O look , at the very least, clean.  I am definitely one for having him look adorable whenever I am out with him.  You know, cute outfit, hair combed to the side, clean shoes and socks, etc.  But today, after dinner, my husband and I wanted to take O to the playground.  It was about an hour or so before O's bedtime.  He had his dinner.  He had a poop.  My husband changed him and  told me that O had a little diaper leak, but that it wasn't that much, so he kept him in the same outfit.  Well, ok…I'm not gonna question the man who offers to change a diaper.  The baby was fast approaching the "tired wall" and it was time to expend some serious energy.  To tire the poor kid out, basically.  Lets just overlook the little poop stain.
I was putting O in the car, and in the light of day, I realized his face was covered in dried sweet potato.  It was also all down the front of his romper.  Nice.  Oh whatever…a little sweet potato never hurt anyone.  His knees, now in full view, were filthy.  Oye.  Ok….they would get dirty at the playground anyway, right?  I'm beginning to see this messy thing is a slippery slope.
About half way through our playground outing, I realized my child looked like a bonafide ragamuffin.  Disheveled would be a polite term.  I thought to myself, "I am THAT Mom."   But in that same instance, I knew it didn't matter one bit.  This delicious wonderful child was ours.  Under all that dried sweet potato and dirt was the most perfect thing we had ever done.  I guess it's a good lesson in not judging what you see all the time.  "That Mom" most likely, like me, was frazzled….in a rush….and thought to herself, "I'm just running out for a sec! What does it matter?"  Well, it doesn't.  Not one bit.
Is your child happy? Is he exploring? Is she getting her hands dirty, figuratively and literally? That's what matters.  I guess I see it differently now.  I see the sweat and dirt on O as an indication of how active he was all day.  His energy level is through the roof! I can only imagine that level rising as he gets older.  And the harder he plays, the harder he sleeps.  I'm not gonna mess around with that! The occasional stain on his shirt? The smudge on his face? Well, shit happens.  But one thing I know is, it all comes out in the bath water.  Literally.
This does not mean I throw all good intentions of keeping my child clean out the window.  But there is a time and a place for all things…and there are limits to what you can do at times.  I'm a good Mom.  No, scratch that.  I'm a really good Mom.  But I am not super human.  Often, I miss a spot on his sweet cheek after lunch.  Occasionally, I keep him in a dribbled on shirt.  And most times he likes to run his hands through the dirt in the yard.  He'll survive….and so will I.  Happily and heartily.  Growing and exploring and figuring it all out….together.
Until next time, keep fighting the good fight and remember, behind every great kid is a mom who is sure she is messing it up! Xo