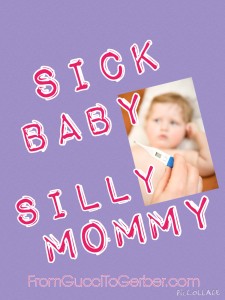 This week there has been no jam making or furniture staining.  No re-upholstering, no sanding woodwork, no projects period.  Everything is in a holding pattern. Little O is sick.  He has a high fever.   Red throat. Sick look in his eyes.  Yes, my little bub is sick.
It is really the first time he's been sick.  He had a cold once at around 5 months old and he has been teething since before his first tooth at 4 months….but he's never really been this sick. You know, for days.  I don't like it.  What makes it even worse is that he can't tell me what feels bad.  At 15 months old he is just stuck feeling horrible, wondering why.  It's our job to guess and assess.  Not easy, is it parents? It's just the worst.
I say "it's the worst," but in truth, we have had it quite easy and have been very blessed.  We have a healthy little boy who happens to be sick right now.  But it makes me think about the parents who have children who are REALLY sick.  Who were born with an illness. Who spend days at a time, even months, in a hospital.  I can't imagine the level of worry those parents must endure.  It is unfathomable to me.  I suppose as a parent you just do what you have to do to get through it.  But talk about courage.  The courage to face every day and create a world of beautiful possibilities for your child in the face of such uncertainty…..these parents are truly heroic.  I pray I will never really know what that is like.
I realize that I have thought of O's  good health as a given.  I have taken it for granted so easily.  How awful of me.  How audacious.  I think about how tough the week has been with a fussy needy sick child….and he isn't even THAT sick.  How dare I! Talk about loss of perspective.  I need to thank my lucky stars because TODAY I have a sick little boy….but tomorrow or the next day he will be better.  And for TODAY,  my husband and I and our families are healthy.  My cousin calls it a "grace period." It's a window of time where everyone is doing ok.  Later? Who knows? Let's be grateful for the good stuff, NOW.
So I will follow the Doctor's orders.  I'll continue to push the fluids on my little guy.  He just won't eat yet.   And I'll coddle and cuddle him and control his temperature with a piggyback of Baby Motrin and Infant Tylenol.  I'll read to him and let him be fussy.  And soon he will be back to his joyful energetic self and I'll be writing about some new struggle.  But I will not take his good health and our great fortune for granted again.  If you happen to be a parent with a child who has a challenging sickness, know that there is someone you have never met who is thinking of you and praying for your child.  In fact, I'd venture to say you have a whole army of people doing just that.
Until next time, keep fighting the good fight and remember, behind every great kid is a mom who is sure she is messing it up! Thanks for reading! Xo