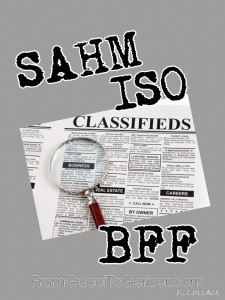 SAHM ISO BFF :  Stay At Home Mom In Search Of Best Friend Forever! Well, that's a little dramatic, don't you think?  But imagine if it was that easy to put it out there and meet other moms and actually become great friends!
I've written before about the loneliness of motherhood.  I imagine it is something many stay at home moms deal with at one time or another.  Living several hours away from my family (with the exception of my mother in law, thank god!) proves to make me lonelier than most, I suspect.  Especially with my personality.  Most people assume that because I am a performer, I am an extrovert.  But that is not the case.   I have a very hard time making friends.  And ever since I have had O, I wonder if I am in jeopardy of losing the ones I do have due to lack of contact.
It isn't for lack of interest in my friends.  Thanks to Facebook I can at least see what they are up to.  I constantly cheer them on, unbeknownst to them, nestled away in my New England haven.  I smile for them. I laugh with them.  I even cry for them.  But we all know Facebook is not real life.  The contact is "virtual."  It certainly doesn't leave you feeling like you spent the afternoon with a good girlfriend.  I remember that feeling.  I would feel inspired.  Invigorated.  Like I could take on the world.  Nothing inspires your confidence like time spent with a bestie.
These days I am in toddler world.  From the moment O is awake to the moment he goes down for a nap he consumes my energy.  Once he wakes up it starts again until he is down for the night.  I'm not complaining.  I'm not looking for sympathy.  It is simply the way it is.  He constantly requires my focus.  If I'm not reading to him or feeding him or playing with him, my attention is on where he is and is he burning the house down? or is he sticking his tongue in a socket?  Even giving him his "alone time" to explore and play on his own, takes my focus.  It's not about hovering.  It's about the fact that I can't abandon all thoughts of him to focus on JUST me.  By the time his nap time comes I just want to shut off for a bit.  I use that time to take care of business, if I need to.  But mostly I use it to take some down time.  I use it to do something cathartic for me. I want to piddle in the garden.  I want to work on my latest DIY project for the house.  Whatever it is, the last thing I really want to do is talk on the phone.  I mean no offense to any of my friends.  Most of them are working at that time anyway. And several of them are on the West Coast, so the time difference is impossible.  When I can chat, it's either 5 am their time, or 9pm my time and I'm already in bed.  Oh the glamorous life I lead!
I guess if I could say something to each wonderful friend I have it would be this:  I miss you deeply and love you dearly.  Although you are not in my everyday life at this point, you are warmly in my thoughts and are absolutely part of the person I am today.  Though it may seem like I am a totally different person….I am not.  I'm still me.  I'm just a Mom now, in addition to all the other crazy hats I wear.  Please don't think because I have a child now I don't care to be friends with you.  Who wouldn't want to be friends with you? If you are a friend of mine, I must tell you, you are a pretty special person.  I don't take that for granted.  Wonderful people are not a dime a dozen.  It's just that sometimes life (or in this case, a toddler) gets in the way.  Forgive me.  I WILL return to the land of the liberated.  It's just gonna take a few years.
Until then, keep fighting the good fight and remember, behind every great kid is a mom who is pretty sure she is messing it up.  Thanks for reading! Xo