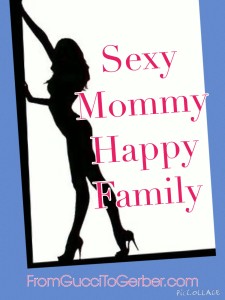 I recently shared our "project" to attempt getting pregnant again.  As fun as it can be,  it is also quite a commitment.  It requires energy.  Something that after being up since 6am, running around after a toddler since 7:30am, I am on short supply of most days.  It also, I'm finding, requires effort.  I'm not talking  about "the act" itself.  I'm talking about getting myself feeling ready for a "tumble."  I never thought I'd say this, but feeling sexy can be a challenge for me as a stay at home mom.  So here are a few things I find myself doing to combat that:
I get dressed.  Everyday.  Sweatpants more than two days in a row is bad.  Even if I'm not going out, I put on something that makes me feel good.  Sweatpants don't make anyone feel good.  They make you feel comfy and cozy….but not sexy.  Now yoga pants can make me feel sexy if paired with a cute lulu lemon top…but again, not worn on consequetive days.  Also, not to be forgotten, I try to wear a sexy bra.  NOTHING is sexy about a jog bra.  NOTHING.
I take the time to put some light makeup on.  This is not for my husband, who literally could care less if I ever put makeup on again. This is totally for me.  Again, even if I'm not going out, it makes ME feel pretty. It's something small that goes a long way.  Being totally honest, it's not super easy being the oldest Mom at the story time, or at the market.  In some small way it helps me feel like I might avoid the "Is that your grandson?" comment.  (God help me when THAT happens).
I shave my legs and underarms.  I use a great shaving gel that keeps my skin nice and smooth and hydrated.  Thank you Trader Joes.  I am a big advocate of "au naturale" but let's be frank, hairy legs and pits don't scream "sexy time." I also use lovely lotions on my limbs and a spritz of perfume.  Smelling good is a huge part of being desired by my husband.  I love it when he comes home, embraces me and takes a huge breath to take in my scent.  Let that be a positive experience for him.
Beyond all the superficial things (which are valid), I think there are more important things involved in feeling sexy.  These are things which may not be as simple to do on a daily basis.  I try to challenge myself each day to do something I think I might not be able to do.  Because it gives me confidence.  And confidence is sexy.  I try to find the humor in everything I do and in most experiences, each day.  Because funny is sexy.  I practice gratitude daily because happy is sexy.  I am not always successful in accomplishing these things…but I try.  And trying, is, yup, you bet, sexy.
I understand that these last points are the true keys to feeling and, in fact, being sexy.  Maybe that is the allure of the "older woman?"  Lol!  Maybe it's the amount of pheromones we ladies on the older side of young emit into the atmosphere? Who knows? Who cares? What I do know is that for me, sexy is as much a state of mind as it is anything else.  You can have the perfect makeup on and the most expensive perfumes…hell, you can be wearing a piece of dental floss from Victoria's Secret, but if you don't "own" being sexy, well. you're just not.  I mean, really…ever have an orgasm when your head wasn't in the game? Right.  Enough said.  Sexy Mommy signing off.
Until next time, keep fighting the good fight and remember behind every great kid is a mom who is sure she is messing it up.  Xo