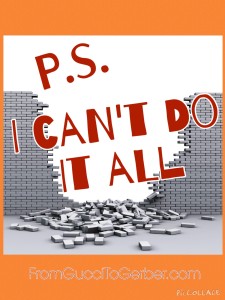 As if I needed to declare this.  As if I assumed you thought otherwise….Nope.  It is most official.  I CANNOT do it all.  There are some things better left to others….anyone else, to be frank.  I have experienced an epic fail today in my quest for home improvement/beautification.  It is an important lesson I have learned.  Me, drills and drywall don't mix.  I should stay far far away from anything having to do with said drywall.  In my effort to surprise my husband by hanging a hand towel rack in our newly renovated master bath, I have created a bigger headache for him than having to install it in the first place.  I know he hates hanging things, especially towel racks, etc.  I thought, "how hard could it be?"  Well, apparently for me, it's pretty freakin hard.  There is now a hole the size of a small coin and a drywall anchor that has pushed through the wall with the screw still attached….what a mess.  I have given up trying to rectify the situation, as every time I attempt, the problem (and hole) gets bigger.  Oye.
If there is one thing that really irks me, it's when I can't do something.  I'm now feeling like a total failure.  If I had potato chips I'd be chomping on the big bag trying to crunch out my frustrations.  Instead, I downed 2 Oreos.  So not the same.  As I begin to come to my senses and get over myself, I wipe the crumbs from my face and realize there is another lesson to be learned here beyond staying away from drills and drywall.
Perhaps we are not meant to be able to do everything.  If you think about it, isn't that how the best partnerships are born? People who complement each other in their talents and skills.  Well, that's my husband.  He's the ying to my yang…or the yang to my ying…either way, you get what I'm saying.  We are so opposite in so many ways….but yet we are aligned perfectly when it comes to important things like love and family.
Maybe it's ok that I don't possess the strength and skills to use a power drill effectively.  Because he's pretty great at it.  I think it's good that I have patience for the tedious projects in the house (like painting the woodwork) because he doesn't.  I have no doubt there is some woman out there who is able to put a drywall anchor and screw in just fine.  Power to her! It's just not me.  So perhaps I'm blowing smoke up my own tush, trying to make myself feel better for my failure.   Maybe I'm the only woman on earth who can't seem to handle this seemingly easy task.  Whatever the case may be, I like being the ying to his yang.  I like compromising.  I like meeting him half way.  I like knowing there are things he can do better than me.  And in turn, there are things I do better than him.  I like being part of a partnership.  I like keeping each other in line.  I like being accountable to someone else.  Who'd have thunk?
So there you have it.  My epic fail has evolved into a revelation of gratitude.  My craving for chips has passed.  Until next time, keep fighting the good fight and remember, behind every great kid is a mom who is pretty sure she is screwing it up.  Xo