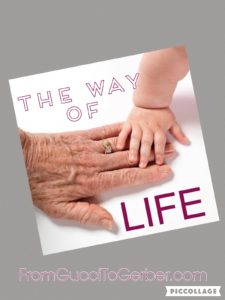 I lost my Aunt Anneke this week.  It wasn't sudden.  She was battling cancer for some time.  But still, the finality of any passing startles me, nonetheless.  I am grieving.  Not so much for her, as I know she is pain free and was most certainly welcomed into heaven with open arms.  She was a wonderful, strong, loving woman.  Her full bodied, lasting hugs were her trademark that I will cherish in my memories of her.  I am grieving for my uncle who was left here on this earth to do the unimaginable.  To go on without her.  It breaks my heart.
It's funny that I should have such a bond with this man.  He came into my life when I was in my twenties.  He had been estranged from my mother and most of our family for all of my young life.  His acute alcoholism kept him away from us for years.  After he had gotten sober for good, he came back into our lives and I'm so grateful.  Oh, the stories he would tell me over a cup of coffee at my parent's dining room table! I just adore him despite the fact that we could not be more different.  Our views on pretty much everything are diametrically opposed.  Yup, everything.  But his heart is true, his words are real, and he is just my Uncle Ronnie. The fact that he has a special place in his heart for my little O just makes me love him all the more.  And now he is alone without his wife, his partner.   It is the way of life.  He would tell you that.  But it is unthinkable.
The landscape of our family keeps changing.  My parents, aunts and uncles are in their seventies and eighties.  Several have passed already.  Actual distance of siblings and cousins has created emotional distance, as well.  It is what happens as you get older, I suppose.  I guess I just wish it wasn't happening quite this soon, for O's sake.  I rationalize, as an older mom, that my family is also older.  But he is never going to know, or at least remember,  many of the family I love.  It is then, that which is understood in my head is not so accepted in my heart.
I don't believe I actually have a point to make with all this.  I think I just wanted to talk about my family.  I appreciate you letting me do just that.  I know this isn't exactly one of my typical mommy blog posts.  But then being a new mom at 46 isn't exactly typical either.  Having a child late in life comes with all sorts of pros and cons.  It is so odd watching family become elderly (or succumb to age) while I witness all the newness my son experiences.  It is the biggest bag of mixed emotions I've known yet.  Immense joy colored with the occasional stroke of sadness and grief.  I'm sure it is the way of life for most older moms.  It was certainly something I didn't think about before becoming a mother.  I suppose, thank God there is the joy.  Such joy!
Thank you for reading and remember, behind every great kid is a mom who is pretty sure she is screwing it up.  Xo