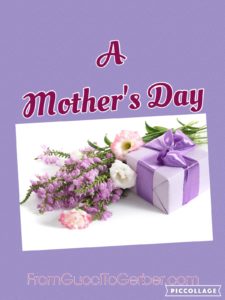 I've never been one for holidays created by greeting card companies.  Valentine's Day is the worst.  My husband and I have vowed to never make a big deal of such a day.  We believe all our days should be reflective of our love and commitment, and not for one set day because Hallmark dictates it.  I know Mother's Day falls under the same sort of quasi-holiday category, but I have to admit, I feel a bit different about it.  To give it equal due, I feel different about Father's Day, too.  So hear me out.
I am not looking for what the advertisers or the media suggest I want.  There is no bauble, gadget, or knick knack I am longing for.  I don't want all sorts of money spent on me.   I don't want a day at the spa or a day all to myself to be pampered.  I don't want a weekend away, a maid service to clean the whole house, or some cheesy overpriced greeting card written by some stranger.   It's so much simpler than that.  What I would like to celebrate and have acknowledged, is the fact that I try every single day not to ruin the amazing child that by some natural miracle ended up in my care.  I'd like a Mother's Day.
What is that you ask? Well, hold onto your yoga pants.  It's a day where I can sleep uninterrupted for 8+ hours (without having to go to bed at 8pm the night before).  I can take a long luxurious bath instead of a quick shower.  I would be able to have a bowel movement…all by myself….in peace…uninterupted.  Without Thomas the Tank Engine.  Or whilst reading The Little Engine That Could.  It's a day that for a whole 24 hours I am NOT the person who touches or cleans up another person's feces.  (To be fair to my husband, he takes on the dirty diapers like a champ when he's around.)  And, most importantly, it's a day that my husband showers me with words of encouragement and love from his heart.  Oh, and he makes me breakfast, lunch and dinner. Now these last two requests actually happen on a regular basis in our home, but they are such a nice part of our day that it only makes sense to include them.
Now I realize that as simple as this day seems in theory, the actual execution of these requests may prove more than difficult.  (Lucky for me, my husband is a rock star!) But, perhaps it might seem impossible for some mates.  Hence, the bauble or some fancy high priced item.  The mate thinks, "how can she be upset with me if I give her _______?" And she won't be.  I mean who gets mad at jewelry or a Coach bag?  The retailers are surely happy.  Hubby is happy because he dodged a mega parenting bullet.  But most likely, it isn't what she truly wants on this day.  If she is anything like me, it most certainly is not.
So Hallmark, Zales, Pandora and all you other retailers and tall tale fabricators….you aren't on my radar.  I could care less about what you have to offer.  I don't know that any woman who stays home everyday with her toddler really wants what you are peddling. As I looked around the library today at story time, I saw the faces of other mothers that seemed to need what I am in need of.   We all most likely just want to remember who we actually are.  To have a moment to acknowledge our own worth unattached to the non stop job of caregiving.  To have a few moments to think of/and for ourselves, all the while knowing that our most precious possession is being cared for by our most precious partner.   It's that simple.
Until next time, keep fighting the good fight.  And remember, behind every great kid is a mom who is pretty sure she is screwing it up.  Hope you get to have a rockin Mother's Day.  Xo thanks for reading!