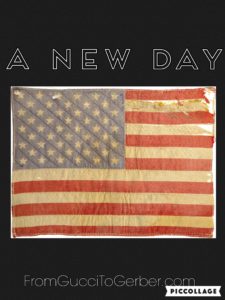 I have been grappling this week with what to write about.  It is a familiar struggle, but sometimes it proves tougher than other times.  I'm usually blocked because I have something on my mind that I feel perhaps I shouldn't write about.  Or maybe I don't think anyone else would find it interesting.  But censoring myself has never been a productive strategy.  So here goes.
I have been very affected by the politics in our country lately.  It feels as if the country is divided in a way that I have never seen in my life time.  And it scares me.  The hate filled, fear mongering rhetoric of a certain tiny hand candidate is appalling, divisive, and small minded.  In my opinion, it has no place in the leadership of our country.  The parties hateful sentiments do not represent my feelings.  Not at all.  But rather than write about The Ego with the bad comb-over, who already gets far far too much press, I want to talk about what inspires me.  This past week, something amazing happened that moved me greatly, as a woman, a mother and a citizen of the world.
I know I am pretty sappy and have a tendency to get emotional over a Hallmark commercial, but I have to tell you that I was genuinely moved by the remarkable speech from our country's First Lady, Michelle Obama at the DNC in Philadelphia.  I know as a liberal it is assumed that I would be a fan of the First Lady, so I will skip the list of admirable traits I believe she embodies.  (There are many).  But what really got me was when she said how her daughters, and all our sons and daughters, could now take for granted that a woman could become President of the United States.  That struck a chord in me.  I realized, quite seriously, that history is being made before our very eyes.
This past weekend I was lucky enough to see Hamilton on Broadway.  Beyond it being an incredible piece of theatre, I couldn't help be struck by the poetic justice of watching an incredibly talented, racially diverse cast, portray our founding fathers. I suppose this must really ruffle the feathers of the David Dukes of the world.  It's funny, but the color of any actors skin didn't really dawn on me until after the show.  It made perfect sense that George Washington should be played by a handsome strapping black man.  I was reminded that for all intents and purposes, we are all really immigrants.   To say you are not is just inaccurate.  I was reminded of the limitations women had to endure regardless of their intellect.  In the words of the character Angelica Schuyler, "We hold these truths to be self evident that all men are created equal, and when I meet Thomas Jefferson, I'm gonna compel him to include women in the sequel. Work!"  The point is, we have come so so far.  Why would we ever go backwards?  It defies logic.  At least to this mommy it does.
This morning I was watching the highlights of the democratic convention.  I watched, and re-watched, a woman of 102 years of age, who was born before women could vote, officially report Arizona delegates for Hillary Rodham Clinton for President of the United States.  It doesn't matter what you think of Secretary Clinton.  You can love her.  You can hate her.  But the shattering of that glass ceiling is undeniable and has changed us forever.  I suppose if you are against her, you might deny its significance.  But in my opinion, you'd be denying reality.  I will not get into a debate with anyone regarding Hilz.  I won't change your mind and you won't change mine.  But this is my blog and #ImWithHer, if you hadn't noticed.
The future of our society, that will be our children's and their children's society, is changing.  My son will not know of a time when a woman could be considered less important or less capable…and that's huge.  It is so much bigger than Bozo the Clown's ego.  I have a friend who has a daughter who is O's age.  She is especially energized about this new day and all it will mean for her daughter.  But I truly think it is something for parents of girls and boys to celebrate.  There is hope this week.  There is a beacon of light shining through.  And as things seem to be going these days, I'm gonna hang onto it.
Until next time, keep fighting the good fight and remember behind every great kid is a mom who is pretty sure she is screwing it up.  Thanks for reading. Work!
P.S. I ordered my Hilary For President shirts for Me and O. Watch out world! Photos to follow.