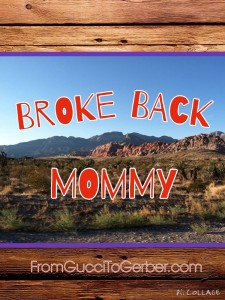 I'm fried.  Completely and utterly fried.  After two weeks of below par sleep, moving house, packing and unpacking, cleaning like a fiend, commuting back and forth from the new house to my mother in law's, where we are staying while the place gets painted and re carpeted (have I mentioned she is a saint?), not to mention hauling boxes and moving furniture….this chick is done.  I am officially toast. I should do a commercial for Aleve.  I've taken enough.   Please don't mistake what I say for actually being all moved in.  Far far from it.  I mean I am POOPED! My brain, my body….my BACK….toast.  I know you should never say never…but I NEVER want to move again.  Three times in a year…I don't recommend it.  Not to mention moving into a house that needs a LOT of  tender love and care.
I say all of this not just to rant and complain.  Although it feels good.  I am letting you in on this morsel of physical pain I am experiencing so you might understand why I have nothing of any worth to say this week.  Nothing.  Forming a coherent sentence is a challenge.  I can't even see straight these days.  I've been wearing my glasses, as I truly think my eyesight has deteriorated in just a matter of days from exhaustion.  Can eyeballs hurt?
When I mentioned to my husband that it was Thursday and I didn't have a post…..he said, "Well, you better get crackin."  I have many responses to that.  A saccharin "Yes, Dear" was not one of them.  But i knew he was right, damn it…..so I sat down and wrote this letter to you.   If  you are a faithful reader, I apologize.  If you are new to my tales, insights and observations, I'll say, "Tune in next week."  This Mommy needs a heating pad, 4 Aleve, and a Cabernet chaser.  Every Mom needs a break every once in a while….if not more.   My Mother in Law says, "This Too Shall Pass."  I am sure it will….. As does all pain.  Oh poor me.  We all should have such problems.  Trust me, the pity party will be over next week.  And that's it.  That's all I've got.  When you've exhausted yourself, take a break.  Words to live by.
Until then, keep fighting the good fight and remember,  behind every great kid is a Mom who is sure she is messing it up!