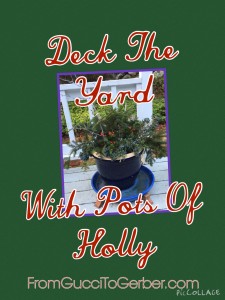 I don't know about you, but I LOVE Christmastime.  I start listening to Christmas music in late October.  I shop mostly year round.  And after Thanksgiving I like to have decorations around the house so I can really enjoy them through the season.   I adore everything about this time of year.  As you know, I've been especially crafty this year.  Ever since we have moved into our new house, I fancy myself a sort of Martha Stewart meets Nigella meets Pioneer woman.  I've taken on some big projects in our home.  But the ones I have tackled for the holidays were all fun….and gave me much joy to accomplish.
I have shared my love of our yard.  But as the garden goes dormant, I was looking for something to fill my planter pots with that was festive and winter friendly.  Of course, Pinterest has some amazing planter ideas and how-tos.  I kind of melded several ideas together and came up with these…..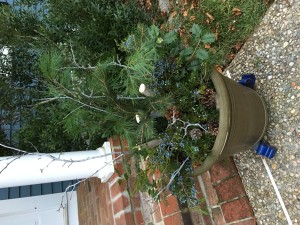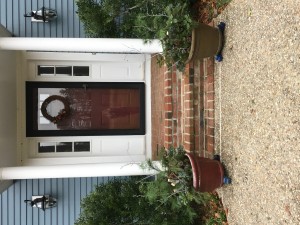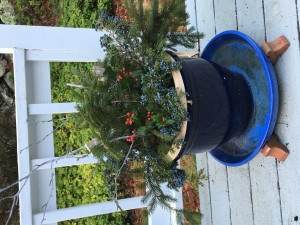 I literally walked around the property and found four different kind of evergreens, holly, pine cones and branches.  We have woods behind our house that go on and on…so finding these gems was not a stretch.  I pulled out the autumn mums I had in the pots, put some foam blocks for live floral arrangements on top of the soil and started arranging.    I don't know how they will hold up in the New England snow….but for now, they are nice.
The second project I just finished yesterday, is a wreath for the birds.  In Martha's November issue there is a picture of a simple balsam wreath with attached orange halves and pine cones slathered in peanut butter and rolled in bird seed.  It is so simple, but so nice.  I got a thing of green floral wire to attach the oranges (I used clementines) and pine cones to the wreath.  I added a festive red bow and I wound up with a sweet holiday accent for my yard and a party for the birds.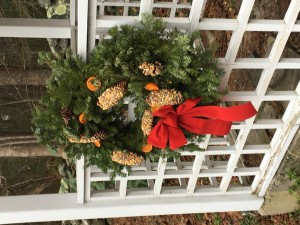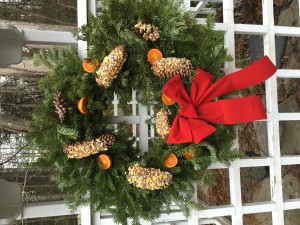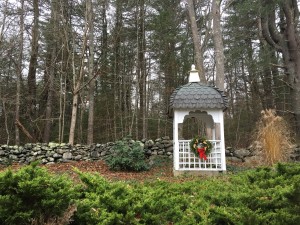 I'm loving all the creative things I can find to do for the holidays.  I've made gifts (though I can't talk about them yet), pumpkin butters, fire starters, pine cone door hangers….hysterical.  I do wonder who the hell is in my body.  If you had told me 2 years ago that this would be me, I would have laughed and and thought YOU were crazy!
Also know, that not every project is a success.  I have many "misses." Just ask my husband about my obsession with butternut squash.  Poor guy doesn't need to see a butternut squash (or any squash for that matter) for a very long time.  Sometimes you succeed. Sometimes, not so much.  Either way, there is something really fufilling about creating something beautiful or something delicious.  Hmm…It's a lot like motherhood.