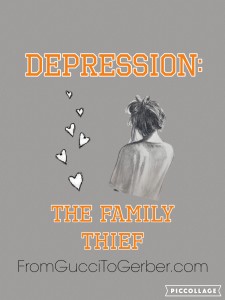 Once again, I have crunched my way into avoidance.  Anything to delay the writing.  It's funny, because tactics to avoid writing only come into play when the topic is of a difficult nature.  This is not  some "Aha!" moment for me.  It's pretty textbook, really.  We tend to avoid the uncomfortable difficult conversations.  My bowl of popcorn, dried peas and blue corn chips are pure proof of my discomfort.  By the way,  my snacks are organic so that means they are good for me, right? Yeah, didn't think so…they are just less bad.  Well, that's something.
I've been harboring this topic for a while.  I'm not even sure how I want to explore it.  It is intensely personal.  Painstakingly difficult and heartbreakingly close to me.  I'm talking about depression.  Now I've shared quite a lot about my bout with postpartum blues after I had O.  What I'm talking about now is the depression I have lived with for as long as I can remember.  I'm not talking about myself.  I'm talking about my mother. It certainly has affected me my whole life…but now, as a mother myself, it brings up a whole other set of feelings.
Depression has robbed my mother of so much in her lifetime.  And that is sad enough.  But it has stolen as much from those of us who love her, as well.  And now it continues to steal from the relationship she could have with my son.  If you have never seen someone through the darkness of depression you might not understand.  She loves him, undeniably.  And he is over the moon for his Oma.  But her sickness keeps her from spending any real time with him.  It keeps her hidden away in the darkness of her slumber instead of enjoying her grandson.  It has taken all possibilities of joy from her, even when they are right in front of her.  It would be easy to blame the person.  But I know enough  after all this time, it is the illness.  And when medications cease to work, it is a deep dark place she goes to.  To say my heart is heavy is an understatement.
I want O to know my mother.  The mother that I know. The glimpses of the real her are few and far between these days.  And the truth of the matter is, she is now elderly.  Depression seems to wreak havoc on an older person's body at an exponential pace.  The less one does when they are older, the less they actually can do.  Bones soften and muscles atrophy through lack of use.  It's tough to make a comeback at 79.  Especially when there is no end to the darkness in sight.  It is brutal.  The reality is that O will have the memories he has, because he doesn't know her any other way than the way she is now.  But for the rest of us, it is hard.  Especially for my father.
I am writing about this not just to express my personal upset, but to raise some awareness about depression and how it affects not just the afflicted, but the entire family.  There are two types of depression that I am aware of.  Circumstantial and chemical.  The latter, as in my mother's case, is the trickier to remedy.  A person might find a medicine that works beautifully, but after time, it begins to lose its effect and depression can set back in.  The dosage is usually increased and enhancers are added, which can make for some scary side effects.  Or a new drug might be prescribed and the whole acclamation period starts again, sometimes only to find out the drug isn't a good fit.  Back to square one.  I can see how a patient could be despondent about their recovery.
What I know is that depression can be genetic.  It can run a cycle that affects generation after generation.  My maternal grandmother, though I never knew her, was agoraphobic.  Anxiety runs in my family. Anxiety untreated snowballs into depression.  With all that I have learned about depression, I'll be damned if I'm going to follow that path.  The madness must stop with me.  Parents pass on their anxiety to their children everyday.  It is unconscious and usually the fallout doesn't rear its ugly head until the child is in their teens.  But it doesn't have to be.  Seek help early.  As minor as your anxiety or depression might be.  Seek help.  If not for yourself, then for your family. If you suffer from circumstantial depression (divorce, job loss, death of a loved one)…seek help.  Your family needs you.  You have a spouse, a son or daughter, a grandchild who needs YOU.
I always say that things happen the way they are supposed to. I've always been a believer of "If it is meant to be, then it will be."  My life is a testament to that adage.    I was certainly lucky enough to have my child at the age of 44.  But what I never thought of was how old my parents would be when I had him.  (That's a whole other post.). So let me finish up by saying I miss my mother.  There are days when I need her more than she could ever fathom.  There are days when I need her guidance and parenting wisdom.  There are days when I just need to hear her tell me she loves me.  To know that she is here, yet not really here, is just cruel and breaks my heart.  Everyday.
Until next time, keep fighting the good fight, and remember, behind every great kid is a mother who is pretty sure she is screwing it up.  Thank you so much for reading. Xoxo