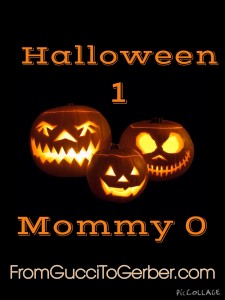 Ok.  So we are safely into October.  There is a real chill in the air and the leaves are starting to appropriately turn color.  The 31st is literally around the corner and I am completely stumped as what to create for O's costume.  Mind you, we don't live around other homes, so I can't imagine we will be getting trick or treaters.  And I suppose we could take O to a neighborhood around us, but it would really be an exercise in parents getting candy for themselves.  O doesn't "get" Halloween yet, nor does he eat candy.  The idea of trapsing through the chilly evening, going up to the front doors of strange homes with him, saying "trick or treat!" for him, as he doesn't talk yet, strikes me as odd.  It would be entirely for us.  So then why do it? And more specifically, why fret over a costume for him?
In my childhood household, Halloween was always a big holiday.  My mother was amazingly creative and untiring.  Making handmade costumes for all four of her children. My mom would go ALL OUT! We had a costume contest parade in our town and every year someone in our family would win, if not everyone! There were no store bought costumes for us. I remember choosing what we would like to be long in advance.  I remember my Mother sewing til the wee hours of the night getting everything just right.  One year I was a southern belle right out of Gone With The Wind with a full on hoop skirt dress!  I recall one of my brothers being a sheik one year and he actually pulled a huge stuffed camel after himself.  My Mother's skill and creativity were truly amazing.
Somewhere the Halloween gene passed over me.  Even though I was lucky enough to wear the awesome costumes my mom made me, I've never been a huge fan of Halloween.  I mean, it's not like it's Christmas for G sake! I know,  there are people who go all out! They decorate their homes , work on costumes for months and go to local haunted houses.  Ugh.  Not this chick.  But now with O, do I have to get "into" it? Ok, maybe not THIS year, but certainly in the years to come?  The thing is, I already know I'm going to be horrible at it.  I will want him to pick the easy costume.  Something that will take the least amount of effort from me.  It's awful! Even so, being raised on homemade costumes makes it very hard to take the easy road.
I know I could just go to the Halloween superstore and get something off the rack, but it seems so cheesy to me.  I remember as a kid feeling sorry for the kids who wore the store bought costumes.  How could I possibly put O in one?  And yet, how will I fair in making his dream of being a two headed dragon come true? I'll be like, "Why don't you be a hobo?"
It really is odd, because I am really a holiday person.  Hell, I shop for Christmas all year long.  I can't wait to decorate right after Thanksgiving and I start listening to Christmas music in October (ooh, it's coming up!) …don't judge me.    It's just the scary horror stuff just doesn't do it for me.  The only thing I really like about Halloween is the abundance of candy, preferably Twix bars and anything Reese's.  I suppose when O is actually is old enough to get excited about it and actually participate, my feelings may change.  I hope so.  I don't want to be the lame Mom who couldn't care less.  But this year, before he really knows….if I'm brutally honest, I could not care less and I kind of want to take the easy road.    I would love suggestions, cause I'm fresh out of ideas. Even Pinterest couldn't help me.  Everything I saw on there looked too hard to do.  See, I'm pathetic.  Big Halloween Mommy fail.  Pass the candy bowl.
Until next time, keep fighting the good fight and remember, behind every great kid is a mom who is pretty sure she is messing it up.  Xo