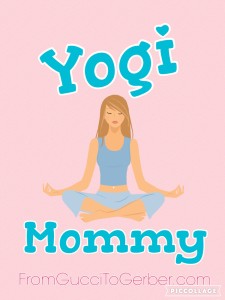 With a dance background, the physical aspects of yoga have come quite easily to me.  Although I am not quite as flexible as I was before the birth of O, I maintain a level of flexibility that is well above average.  I stretch every day, knowing that one day, if I don't use it, I'll lose it. Which leads me to the reason I began taking yoga class.  It's funny, I started going to yoga because I wanted to feel more in shape.  But it has done more for my mindset and psyche than anything else.  And strangely, it helps me to be a better Mom.  That hour of time that is "just for me" pays off ten fold in every other area of my life.
More than anything else I do for myself in any given week (which, let's face it, isn't a lot these days) this one special hour is personal and parenting gold.  It fuels me with positivity and calm.  It lets me, unapologetically, breathe for myself.  For a whole hour.  Before I had O, I would not have understood the importance of that.  I guess I took the idea of "breathing for myself" for granted.  Before O, extreme self care was instinctual.  But becoming a mother has changed all my instincts.  My first thought these days is to take care of O.  What can I provide for him? Are his needs being met? But what I have learned, 21 months into this parenting journey, is that caring for myself is equally important.   Now, I understand the concept of "breathing for myself," not just in the context of being a mother, or a woman, but of being human.  It is not a luxury.  It is a necessity.
Oh it sounds so La Dee Da, Organic Crunchy Granola.  So be it.  I don't care.  It works.  I don't need all the massages, manicures and pedicures I once indulged in.  I don't need the vapid shopping sprees or endless "me" time.  I need an hour. An hour of mindful meditative physical commitment.
It's simple once I get there.  It's just that sometimes the "getting there" isn't so easy.  Working it around my husband's work day, getting dinner started, feeding the baby, etc.  It can be a bit of an obstacle course just getting out of the house.  But they are hoops I'm happy to jump through to get to my slice of positive pie.  In truth, it isn't that tough, we just don't have it down yet.  It disturbs our regular routine, so it seems like a whirlwind when I leave, but it will soon become part of our rhythm.
As I see and feel the benefits of this magic hour, I now realize I don't just want it.  I need it. I swear, it gives me a sense of peace and strength to get through the week.  It gets me right in the head.  It aligns my body.  It wakes up parts of my body (and soul) that I have been neglecting.  I have more patience.  I am more creative.  I have more to give both my son AND my husband.  I am a better mom,  a better wife and, dare I say, a better person.  All because of yoga! It makes me laugh, because it sounds so silly, but anyone who practices yoga knows the serious life benefits it possesses.
To be honest, I'm sure it doesn't have to be Yoga.  You could meditate.  You could hike.  You could cycle. Whatever floats your boat.  For me, yoga is a perfect fit.  I would never turn down a solo nature hike, but I just can't make that work on a weekly basis with our schedules.  So yoga it is.  And I could not be happier. I guess if there was one thing I would want to share with a new mother it would be the idea that self care is not selfish.  It seems obvious.  But to a new mother, it isn't.  It just isn't.
I'll leave you with something my yoga teacher says at the end of class.  I wish you peace in your thoughts, peace in your words, and peace in your heart.  Until next time, be good to yourself, and remember, behind every great kid is a mom who is pretty sure she is messing it up.  Thanks for reading.  Namaste! Xo