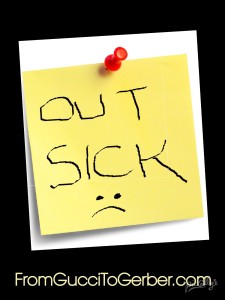 I'm writing this week's post from my bed.  I'm SICK.  All Caps! My amazing husband is holding the fort down with our little O, who is also sick.  Occupational hazard of a SAHM..we tend to get sick when our little ones are.  This virus has knocked me down for the count,  though.  Yes, I went to the Dr….or should I say "Urgent Care," where I was seen by a P.A.  Who told me essentially, I wasn't sick enough yet to prescribe anything for me.  That I should ride it out and see if my body could fight it on its own.  That's fair enough, but with my history of upper respitory infections, I don't share that hope.  So, I didn't actually go to my Dr. per say.  Silly me wasted my time seeing a physician's assistant with a point to make, who didn't believe I know my body well enough to know when I'm faced with more than a chest cold.  Two days later I find myself wheezing, coughing up my lungs and praying this bout doesn't turn into pneumonia.  I'm prone to pneumonia.  I told her that.  Good times.
Several nights ago O had such a high fever we wound up at the emergency room.  It was scary high.  After calling the Ped on call (because it was a weekend AND a holiday) we were directed to go straight to the ER.  So, of course, a P.A. sees him.  O has a bit of "white coat syndrome," after remembering the shots he got on a recent visit.  He freaks out whenever he starts getting prodded and poked.  Which at this hospital seemed to happen repeatedly.  First by triage, then by the first P.A.  By the time the second P.A. checked his ears he had been crying for over 30 minutes.  She thought the ears looked a little red, so she said he would be treated for an ear infection.  But he had no other signs of an ear infection beyond the fever.  No tugging on his ear, no sensitivity when I touched them….I wasn't convinced.  I asked her if his ears could be red because he had been so upset.  Well, yes, she said.  But they prescribed a 10 day antibiotic for him, regardless.  10 days of antibiotics seemed a bit heavy for a baby who may not have actually had an ear infection.  So, if we gave him the antibiotic and he didn't have an ear infection, he would be ingesting medicine he really didn't need, lessening the effectiveness of it when he really DID need it.  Follow my logic?  Considering the cough he has now, it was not an ear infection, but a chest cold….that he seems to be fighting better than mommy.  I am confidemt he'll recover because he finally saw his pediatrician, who we know and love.  It made me wonder what the point of going to the ER was? It mostly just upset the baby…and they were basically grasping at straws to decipher what was ailing O.  I suppose it made Mommy and Daddy feel like we were being proactive? It alleviated the feeling of helplessness that takes you over when you are a parent and your child is burning up with fever.
I know, I know, antibiotics are the essential devil.  We over use them.  And that overuse is causing certain virus' to become unpenetratable.  But sometimes you just know when you need them.  And sometimes they don't make sense.  What ever happened to the patient being equally responsible for their diagnosis?  I guess this doctor patient trust thing is a two way street. I think I'm done with ER's and Urgent Care places for awhile.  I'm on a rant, cause I'm mad that I am sick.  I'm upset that Oliver is sick.  I'm annoyed at the lack of quality urgent healthcare there is in our area even with great health insurance.  It's defeating.  And depressing.
I feel like the healthcare situation is only going to get worse before it gets better in this country.  Too many people have made too much money gouging the American people with their high premiums and out of sight drug expenses.  Those people aren't going to let the healthcare cash cow go too easily.  Doctors are complaining about all the new paperwork getting in the way of patient care.  (Not sure why you can't do both?). But the big question is, what does that mean for all of us? Damned if I know.  I'm just an achy delirious Mom today who just needs to feel better. Pronto.
Until next time, keep fighting the good fight, use your Purell, and remember, behind every great kid is a mom who is pretty sure she is screwing it up.  Xo