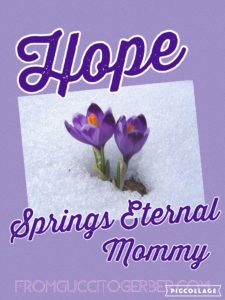 It's March and it's snowing. That isn't uncommon for New England, yet I find myself thrown by it's sudden presence.  It was 60 degrees and sunny the other day.  Mother Nature is playing games I do not appreciate, just adding to the sense of Topsy Turvy the world is in.  I sit here watching the snowfall.  I am nursing a dreadful cold.  My feet are up and my head is buzzing from my latest dose of Sudafed.  The alternative is conjestion that rivals some of the worst I've known.  So Sudafed it is.  It's Winter in Spring, the head of the EPA says carbon emissions don't hurt the environment, and I feel like my country is shifting into reverse.  Ladies and gentlemen, the world is UPSIDE DOWN.
The truth is, I have no words for the spiral we are in at the moment.  My sense of self preservation says to focus on what is right in front of me.  My work. My family.  Doing the good I can do in the small everyday sense.  Practicing kindness, generosity, and acceptance.  Keeping an awareness of the bigger happenings, but not letting them deflate me.  But that is proving to be quite a feat.  Everyday it is some new crazy absurdity being revealed from our government or some completely unfounded insane tweet consuming my newsfeed.  It's a level of insanity hard to dismiss.
And then, I breathe.  Simply my mind remembers the new cd I have of the Broadway Cast Recording of Dear Evan Hansen.  The music is uplifting, inspiring and all together gorgeous.  It is my new "go to" cd in the car. The lyrics are poingant, personal, yet universal, and filled with soul and human spirit.  Dare I say, the music makes me hopeful?  Yes.  I'll say it.  Art is like that, hence why it is so important.
Then, I made a very last minute decision to attend a town hall meeting being held by our U.S. Representative to Congress, Joe Kennedy III.  Saturday afternoon and there were a million other things on my radar. I was feeling stuffy and horrible, but something inside me told me to go.  So I did. Seeing and listening to this young, smart, compassionate man talk about what he thinks our responsibilities are to each other, as citizens of this country and as human beings, was inspiring.  Uplifting.  Dare I say, it gave me hope in this "post truth" era?  Yes.  I'll say it.  What I saw, was the future of our country before me.  In some strange way, he spoke and I felt better.  Less anxious.  Less afraid.  He answered questions with respect and empathy, but also knowledge and authority.  I honestly thought to myself, This man is going to be our President someday.  He gave me hope.
As a mother I find myself in a perpetual state of worry about the world we have brought our son into.  I worry about his education, his safety, the environment.  You name it, and I'm sure I've worried about it at some point.  To say I've been overwhelmed with the "goings on" in our country is an understatement.  But then I realized, that a moment of hope seems to beget the next moment of hope,  and the next, and so on and so on,  Suddenly, all around me, everyday, are moments of creativity, moments of profound inspiration, and moments where I am in control to be kind and generous.  Moments where even I can change someone's life for the better.  And it fills me with hope.
True vision and hope are impervious to the bombardment of negativity and malice assaulting our society.  This malevolence has no defense against what is just and right.  Just like a lie has a way of making its way to the surface of truth while destroying its keeper in the process.   You may disagree with me, but I don't know if I will ever live to see a woman president in the White House.  I think it is a hurdle too high to overcome at the moment.  Sexism, I fear, is ingrained in the fabric of our flag.  It is my hope, though, that my son will see it.  But what I am certain of, is that he and I will both see the honor of the office restored.  I'll be awful proud to say I met him and that he gave me hope  when I sorely needed it, one cold Saturday in March, not so long ago.
I hope you are well, my friend.  And hopeful.  Life without hope or creativity or inspiration is a tough life.  Keep fighting the good fight and remember, behind every great kid is a mom who is pretty sure she is screwing it up.  Thanks for reading! Xo