A few weeks ago I did another thing I always said I would NEVER do as a mom.  I have my reasons, as I'm sure all women do.  The fact that the summer heat was breathing down my neck played a huge part in the decision.  Okay okay enough with the lead up….just spit it out already! I cut my long hair.  I now sport a shoulder length bob.  Half way to soccer mom.
Why would I go and do such a thing? Well….let's be fair.  I wasn't exactly "doing" my long hair on a regular basis. In fact, the number  of times I "styled" it since O was born is a very low digit number.  And when I actually did (which took forever) I would wind up putting it in a mommy bun or pony tail anyway.  Talk about a waste of time.  I just don't have an hour or more to waste a day.
Another factor is, as I said, the summer heat.  I needed that mane off my neck! Too much hair.  Too much making me HOT! I started to get angry at my hair.  That's not a good place to be.  And yes, I could have continually thrown it up in the Mommy bun…but just drying it was taking too much time.  And to be the woman with the wet hair in the Mommy bun seemed bleaker to me than a mommy bob.  The bob also seems relatively fashionable these days as I look at celebrities on the magazine covers while I wait in line at Target.  Right? So I did it!
My sister in law's niece, Abby, is a hairdresser and a complete hair genius.  This girl is talented.  She cut my long hair before and is awesome.  I was nervous, of course, as my hair has been a crutch I've been holding onto.  But she gave me the greatest cut and I feel a million times lighter. I feel free from the "hair." Does anyone know what I'm talking about?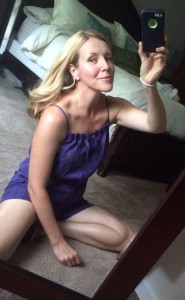 What did I think? That holding onto my long hair was going to make me feel younger?  Silly Mommy. I can't even remember what I thought the payoff was for "the hair."    Truth be told, I feel better now without the weight of the mane on my head.  I feel pretty and spunky.  I love it.  This makes me wonder….what other myths are out there for me to dispel? What other Mom things have I been avoiding for ridiculous reasons?  The reality is, that no one cares if I cut my hair….except me.  So why not do what makes sense for ME? I don't think, however, I'll ever venture into truly short short hair as I don't think it would suit my face at all.  But again, never say never.
I think I was able to give up this crutch because everyday as a Mom I am learning more and more about what is truly vital in this a crazy life we live.  Yes, how you present yourself to the world is important.  It's just not ALL Important.  So if I go out without make up or my hair quaffed…who cares? Nobody but me.  So when I do it, I do it for me.  It's about time, huh?
Here's to you! Hell, here's to US! And thanks for reading.  Until next time, keep fighting the good fight and remember, behind every greasy kid is a mom who is pretty sure she is messing it up.  Xo