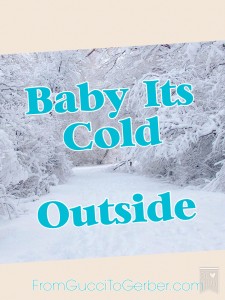 Winter has arrived.  At least in New England it has.  My days of escaping the frigidity by spending winters in the Caribbean or Florida are over.  At least for now.  And I'm ok with that.  My husband has armed me with sets of cuddlduds (fancy long underwear), fuzzy slippers, cute winter hats, and high strength moisturizing balms.  I'm all set.
I packed the Christmas decorations away yesterday (yeah, I keep them up for a while. I'm like that).  I am seeking out indoor activities for little O, as well as suiting him up in some super warm winter wear so we can be outside for as long as possible.  We found an amazing gymnastics school that does an open gym session for an hour on Wednesday mornings.  What a wonderful thing! If you are looking for something for your toddler to do to burn some of that crazy energy….check in your area.  I bet there is something like it near you. Even a local YMCA may have a similar program.
My point is, I'm thinking that hibernating for the winter with a toddler may be a whole different animal than adult hibernation.  Let's face it, I was never very good at the adult version.  My strategy was to run to a warmer climate.  But now, I'm actually looking forward to the snow! Boy, how motherhood changes you!  I truly can't wait to see O's excitement for the snow.   I can't wait to pull him up and down the driveway in a little sled and to watch him play in the white powder.  I know, I'm romanticing the whole scenario.  There will also be wet cold hands, crying, and 6 am snow clearing.  I'm aware.  Yet, I still look forward.  It's like giving birth has released a euphoric hormone into my brain….and despite the harsh cold realities of the winter freeze, I am still excited and, dare I say, giddy about winter.  Anyone who knows me is wondering what the zombies did with me.  I'm telling you, to coin a lyric from the musical Wicked, "I have been changed for good."
I am sure I am like a broken record about Gratitude.  It's very "Oprah-esque," I know.  It has truly become habit for me.  There was a time when I had to work hard at being grateful. It was a challenge to wrap my head around finding the positives.  Yet, in hind sight, they were all around me.  It's not just since the birth of O that there is wonder surrounding me.  My life has been blessed from the start.  I just didn't always see it.  Part of it is my maturing emotionally.  Part of it is my whole heartedly believing in the practice of gratitude.  The rest is part of my brain coming to life.  That's actually a real thing in regards to motherhood. Check it out.
The more positive I become, the less room I have for negatives.  My mind literally switches them off.  It's not automatic yet for me.  I have to make the choice to stop listening.  I want to live in Happiness.  I want more Joy.  I want Calm and Peace wrapping around me like a cozy blanket.  I'm sure I seem very Polyanna to a naysayer.  So be it.  I didn't understand the super power of gratitude, either.  What's the saying? The secret to having it all…. is believing that you do.  Perspective is everything!
So let the Winter have its due.  Let it snow, let it snow, let it snow! Let the weather be frightful.  My heart is warm and bursting.  Just at this moment I am snuggling up to a hot cup of apple cinnamon tea and polishing up my rose colored glasses.  Winters up here can last through March!
Until next time, keep fighting the good fight, keep warm, and remember, behind every great kid is a mom who is pretty sure she is screwing it up! Thanks for reading! Xo