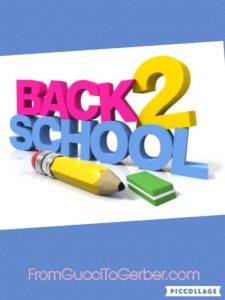 As the end of summer approaches and the days become shorter, my Facebook feed is overflowing with posts rejoicing in the fact that children are finally heading back to school.  There seems to be a collective sigh of relief among mothers of school age children, as if the school year couldn't start soon enough.  As a first time mom of a two year old, I am not there yet.  The back to school fervor is obviously not on my radar.  But it makes me wonder what it's all about.
I am sure there are mothers out there, who adore having their children home with them for the summer.  I just haven't caught their posts about it.  Maybe they are too busy making homemade organic Popsicles to spend time on Facebook?   I mean, there are moms who enjoy their summers with their kids at home, right?  When I was growing up, my Mom always looked at Summer as magical.  Didn't she?  At least she seemed to enjoy it.  Perhaps even loved it.  There is no denying that it was a different time then.  The world was a simpler place just some thirty years ago.  I'd like to hold onto my illusion that my mom actually enjoyed having us out of school for the summer.  When I think about it, most of the neighborhood kids would spend summer days at our house because we had a pool.  My mom would essentially be the den mother to all the kids on our street.  There was never a complaint from the other mothers.  Huh, that's not surprising.  I think the back to school sigh of relief was around back then as well.  I also surmise that my mother was a rarity among her friends.
The thought of sending my O to school for full seven hour days at the age of five, sends my head into a spin.  And then I hear moms of older children talking about the failing education system and lack of emphasis on the children being active, and it makes me want to homeschool our guy.  I want to take him away to some Nordic country and have him schooled there where they play outside for hours each day.  When did the idea of learning through play become invalid?  Maybe this is why some parents seek out Montessori schools? Maybe regular public schools are mostly a type of glorified government daycare?  They shove them through, make sure they pass a specific state test, and mind them for nine months out of twelve each year. Could that be true?  And if it could be, don't we want more for our children?  Oye! I'm digressing.
I guess what I want to say is that I can't imagine a time when I will want to send O away from us for seven hours a day.  I understand the importance of doing so, but I can't imagine liking it.  But then again, I am a newbie.  You seasoned moms are rolling your eyes at me about now, and that's ok.  I admit I don't know what it will be like down the road.  I just know that even now, when the days are tough, I don't will them to pass any quicker.  Time is going by fast enough, thank you very much.
I say it again and again.  I feel that being an older mother gives me an advantage on contentment.  I am not wishing the time away so that I can get back to my life.  This is my life.  I am living it.  Perhaps it took me living so much of my life to know that this time is the best time.  Every choice and action of my life has led me to this place and time.  And I guess I am wise (and old) enough to be oh so grateful.
Until next time, remember, behind every great kid is a mom who is pretty sure she is screwing it up.  Thanks for reading! Xo