So many people ask me where I get O's clothes?….or how did I decorate his nursery on a dime? Well, sharing is caring.  Here's the dish on his nursery.
I did most of O's nursery on a shoestring. I did almost all the wall art in his room myself and found eclectic pieces here and there to keep the theme going, but not to make it matchy matchy.  I really dislike matchy matchy.
I knew I wanted a nautical theme in O's room….and I liked the idea of featuring whales, as my husband comes from New England.  So I did a search on Amazon for nautical blankets with whales.  Well, I found the one above and I was off and running.  I chose a grey for the walls that had a blue hue to it.  I believe it was called Reflecting Pool…Behr Paints.  I wanted something that would stay with the room as he got older.  I don't like borders, so that was easy.  I then found some lovely black out curtains in a Steel Grey from TJ Maxx.  Like $20!  Unreal for the two panels.  I liked the idea of adding some grey and white chevron pieces, so I found some storage bins for his changing table at Homegoods in just that pattern.  Mixed those up with some navy and white striped bins as well.  The changing pad cover is a solid soft grey.  My husband installed a dimmer function on the light in the room and I highly recommend it.  Makes middle of the night changes a cinch without illuminating the room to the hilt.
I knew I did not want a crib set with bumpers and quilt.  Bumpers are a no no, as they are considered dangerous.  Cute, but a suffocating risk.  So I got one crib sheet in the grey and white chevron and two in a blue and grey whale pattern to mix it up a little.  The dust ruffle for the crib was grey..also on Amazon.  Best prices, really.  I knew I wanted to put his name over his crib, but wasn't crazy about those big wooden letter you paint…and I wanted to add some personality to each letter as well.  So I decided to frame each letter of his name and do it with different papers and such.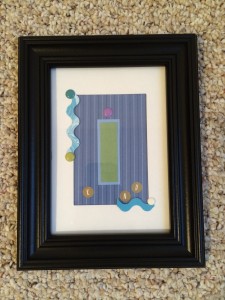 Then I wound up framing a piece that I had been saving for years (see below) and a cut out from a gift bag that a friend gave me of a whale.  All the hues of green and blue and grey all seemed to complement each other.  It was coming together.
Books for O are super important to us, so I knew I wanted some shelves for his growing collection.  I got this idea from Pinterest!  LOVE Pinterest!  We bought these shelves from HomeDecorators.com.  I also found a mobile that I adored on Etsy, but it was $70.  I thought to myself…I could do that.  And I did.  I bought wood cut outs, craft paint, ribbon and an embroidery hoop from Michael's.  Oh, and some crafter's glue.  I think I spent $10, if that!  Think I used a Michael's coupon..lol.
When we moved from Florida, I left the dresser we had in O's room, as I wanted to keep our place there furnished.  The dresser we now have in his room is a hand-me-down.  It is a nice wood and I thought if I repainted the knobs it could work well.  So that's what I did.  Again, I looked on Pinterest.  There are several examples of custom painted knobs on there.  And, again, the price for these is not cheap.  So I did it myself.  I bought some acrylic craft paint and some spray gloss (Michael's) to coat them.  So easy and they turned out really cute.
And these are some of the knobs in closer detail.  So easy. I stayed with the Green, Light Blue, Navy and White I used on the mobile.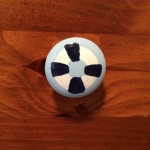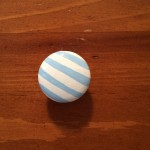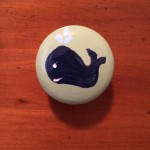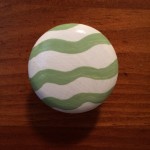 I added a toy bin from Homegoods and a great closet organizer I picked up in Marshalls for $14.99.  Gotta love that!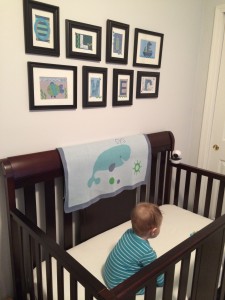 I truly Love O's Nursery.  It's simple, stylish and the decor has meaning to us.  And it's not matchy matchy.  🙂
Follow me on Pinterest to see all my Pins!