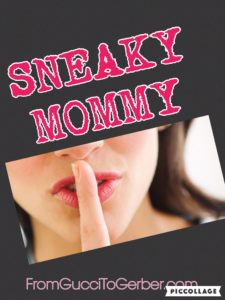 The following nugget I am about to share with you is not one I can claim as my own brainchild.  It is a Pinterest find, but an absolute gem in the picky toddler eating games I am currently eye ball deep in.  If you are in my current predicament, you also have a toddler who refuses to eat many things put in front of him or her.  I could take the path of eat it or go hungry.  He has gone hungry.  And then I thought, why don't I get creative and,  dare I say, sneaky?  Yes, I decided to trick my son into eating healthy fare.  Thus far,  it seems to be working out deliciously!
Here is one of the super healthy and super sneaky picks! Spinach muffins! I have changed the recipe to suit our tastes, but it is essentially the same.  They are awesome. And they freeze beautifully!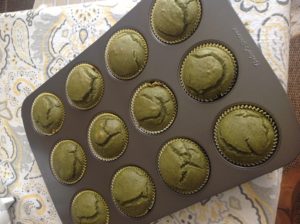 Serves: 12 muffins
Ingredients
2 cups whole-wheat flour
1/4 cup sugar
2 tsp baking powder
1/2 tsp baking soda
1 1/2 tsp ground cinnamon
1/2 tsp salt
1/4 cup canola oil
3/4 cup almond milk
1 (6 ounce) bag fresh baby spinach
3/4 cup mashed banana (from about 1 to 2 bananas)
2 tsp pure vanilla extract
Instructions
Preheat oven to 350°F and line one 12-cup muffin pans with paper liners.
Whisk together dry ingredients in a large bowl: flours, sugar, baking powder, baking soda, cinnamon, and salt. Set aside.
In a blender, place oil, milk, and spinach. Blend on high for about 30 seconds or until completely puréed. Add banana and vanilla; blend on low just to mix.
Pour puréed mixture into dry mixture and fold together with a rubber spatula until completely combined.
Fill muffin cups about 3/4 full and bake 18-20 minutes or until a toothpick inserted into the center comes out clean.
These days, I call most everything cake, apple sauce, yogurt or ice cream.  Yes. I do.  These muffins are now affectionately called "breakfast cake" in our house.  O gobbles them up.  Now you could certainly change out the sugar for apple sauce.  I already reduced the amount of sugar from 3/4 cup to 1/4 cup. The key is to have really over ripe bananas.  There is no denying it is a great way to trick your toddler into eating some very healthy spinach packed "cake."  Right now, that is what is working for me.  Complete and utter trickery.
Another act of misrepresentation is my veggies and fruit purees I put in re-usable pouches.  The pouches are sold by WeeSprout and are fantastic.  They come in different ounce sizes.  I ordered the medium size of 5 oz…they are perfect.  I steamed a bunch of carrots, spinach, pineapple…..puréed it and added some organic unsweetened Apple sauce.  I do the same with beets, greens, etc.  Any combo of veggies and fruits is spectacular.  My son is none the wiser.  We can add proteins, grains, you name it….and I get to decide the nutrition he gets.  He thinks he is having an apple sauce or yogurt pouch.  He is happy.  And I know he is getting the nutrition he needs.  For now it is a win….I'll take it. So I can still serve him new things and not worry too much that he doesn't touch it.  Eventually he will.  My doctor says it can take up to 15 times for a child to try a new food.  (Oye!) So while we navigate that bumpy terrain, I'm sneaking in the vitamins, fats and minerals he needs to develop.  Sneaky Mommy.  :))
Until next time, keep fighting the good fight and remember, behind every great kid is a mom who is pretty sure she is screwing it up.  Thanks for reading! Xo